In appeal to youth, Luke Figora begins signing off emails as "Figgy Smalls"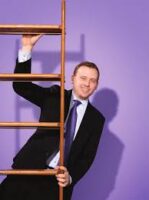 Just like a bad yeast infection, the pandemic rolls endlessly on with no end in sight, Northwestern students have grown accustomed to emails from the university's vice president of operations and resident Fun Dude Luke Figora. However, last week's COVID update put the once-peaceful campus into a frenzy usually reserved for Dillo Day and Target's two-for-one Svedka sale after Figora signed off as "Figgy Smalls".
He told Flipside reporters (accidentally, via secret microphone hidden inside his phone's PopSocket) about the reasoning behind his decision: "I think they'll take my emails more seriously if they see I'm one of them… Maybe we should start thinking about sending them Kik messages too, apparently no one uses AOL anymore lolz!!"
The nickname reportedly stems from his presence as "an absolute unit" in the underground Evanston/Skokie rap battle ring. An anonymous source stated that Figora once stated in a verse: "My bars so sick, they'll send you to Hinman".
Upon the official name change, Figora's popularity ratings among students have skyrocketed by 200%, leaving the once blank category 200% blanker than before.
Figora's new nickname has led to great anticipation for the drop of his first mixtape Figgy Smalls: The Story: The Music: The Official Soundtrack: The Movie: A Major Motion Picture. His opening song was accidentally leaked via SoundCloud, and gives fans a glimpse of the hard-hitting lyrics: "Babes wait for me like the rapid test line/They can always see my swagger through the N95".
Rumors also swirl of him preparing for a rap battle against rival rapper Mortin "Lil Morty" Shapiro and Rebecca Black, aka "Bad B Becky".