Girl Promised "Hamptons Vacation" Shocked When Sugar Daddy's Prius Pulls Into Hampton Inn Chicago/North Shore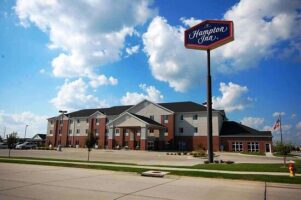 Local athleisure microinfluencer/skincare blogger C. King Orange-Mintz, 23, was reportedly "betrayed and devastated" when the sunny weekend in the Hamptons she was promised by her most recent beau – Wilmette orthodontist Gerald Atric, 65 – was revealed to be not a foray into Long Island luxury, but a motel pit stop.
"When Jerry said he was calling a car from his office, I assumed we were going straight there in an Uber Black, or at least an XL," said Orange-Mintz, who spoke with reporters live from her new man's arthritic lap at O'Hare's private flight terminal. "But when the car showed up, it was just his son dropping off the Prius after tennis practice – and I started to get really worried."
Orange-Mintz and Atric met in line at a Walgreens downtown – she was buying cranberry juice, he Lipitor. Before the Hampton Inn debacle, Gerald had been at a tentative number 3 on her roster – serious enough for butt stuff, but not enough for social media tags. At press time he was hovering around number ten, between the "craving a steak" or "remembered I don't have dental insurance" tier.
"I thought he was referring to his Hamptons spa as 'The Jacuzzi' to be humble" Orange-Mintz said. "At least this explains why he looked a little queasy when I said I planned to order oysters at the bar."
When Orange-Mintz expressed her shock at Atric's chosen locale, he reportedly admitted his wife was keeping a closer eye on their airline miles lately, before presenting her what was clearly just the motel's free bathrobe stuffed in an old Gucci shopping bag.
Orange-Mintz was last seen hailing an Uber Pool from the motel's side lot, frantically stuffing minibar shots of bottom-shelf vodka into her purse with one hand and pressing "delete" on her recent "Pack with Me For The Hamptons!" vlog upload with the other.