Gunna Announces Kidney Stone Diagnosis, to Take Hiatus from Pushing Pee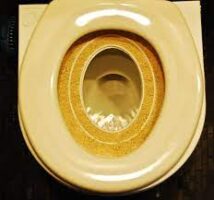 Atlanta-born rapper Gunna announced today that he has been struggling with kidney stones and added that he will suspend his use of his popular catchphrase pushin' P for the time being.
"I can't do this pushin' P shit anymore, man," the "Lemonade" rapper lamented through tears via Instagram Live earlier this morning. "All I can get out is blood and little rocks, and the whole time it burns like hell – this ain't P, dude. Like, literally. Look at this. Does that look like P to you?." The video showed footage of Gunna in his Los Angeles mansion attempting rather painfully to urinate into a gold-plated toilet and producing anything but a golden stream; the post was flagged and removed for nudity shortly after.
Gunna, whose last name is Kitchens, made waves this year for his frequent use of the phrase pushin' P, a slang commonly used in Bay Area street culture to refer to "keeping it real," "being a player," or "drinking too much liquor for the night and reeeeeeeeally needing to go #1, like, really bad." Likewise, Gunna's namesake single "pushin' P (feat. Future & Young Thug)" peaked at #2 on the Billboard Hot R&B/Hip Hop Songs chart shortly after its release, effectively shitting on its rivals.
Despite widespread acclaim and media coverage for his popularization of the phrase, Gunna has engendered controversy among the Bay Area residents who had originally coined it, with some locals deeming it appropriation. One Oakland native explained the "pushin' P" pushback in an interview with The Flipside, saying, "Gunna hasn't pushed P a day in his life. You ever been to a bathroom in Oakland? We take our P seriously over here. We push P so hard, the P bounces off the toilet and it just lands on our pants. Sometimes it gets in our eyes. I bet Gunna can't even get P in his eyes with those big-ass glasses he's always wearing. What a piss baby."
Gunna's team declined our request for comment, citing ongoing health issues. In light of the diagnosis and recent controversy, YSL Records released a statement announcing that the "Drip Too Hard" rapper's catchphrase will revert to "Drip Painfully Hard" until further notice.