Kanye Releases Donda 3 exclusively on Tooth-tunes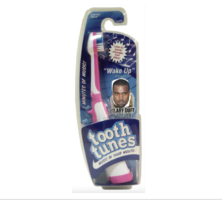 It's no secret that the artist formerly known as Kanye West has made some interesting career choices these past few months. From his seemingly never-ending rollout for his latest album, Donda, to his announcement that his new album, Donda 2, will only be released on the exclusive "Stem Player," Ye now seems to have embarked on a new creative endeavor, announcing that the three-quel to Donda, Donda 3, will only be available on ToothTunes brand toothbrushes.
"I THINK THAT, AS ARTISTS, WE NEED TO TAKE BACK OWNERSHIP AND CREATIVE CONTROL OF OUR ART," stated Ye in an Instagram caption. "I'VE PARTNERED WITH THE PEOPLE OVER AT TOOTHTUNES FOR AN EXCLUSIVE DONDA 3 LISTENING EXPERIENCE ONLY TO BE ENJOYED FOR 2 MINUTES TWICE A DAY."
"Yeah, I'm definitely buying the toothbrush," stated Richard Ryder, a second year Ye fan. "The Stem Player was a good idea and all, but I think that releasing Donda 3 on ToothTunes will finally convince a lot of Ye fans to finally start brushing their teeth."
However, Ye also suffered a lot of backlash from other creatives.
"I mean, I like some of Ye's songs," stated fellow singer/songwriter Lady Gaga. "But what the fuck does he know about toothbrushes?"