I Was Born in the Wrong Generation Says Area Man with Pronounced Browline and Penchant for Hunting Mammoths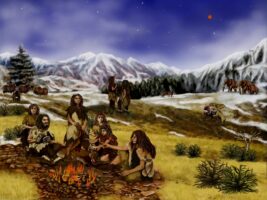 Vinyl records, bell bottom jeans, the use of stone tools: all items used by the modern generation who long for a more simplistic past. It is commonplace today to see people use vintage tools or wear outdated clothing because they feel disconnected from the current generation. After all, gen Z's cell phones, social media, and developed frontal lobe can seem overwhelming to the average person. No one understands the issue of being a chronological pariah more than Grog Stonespear, who believes that his pronounced browline and love of mammoth hunting sets him apart from the modern generation.
"Kids today, only want iPhone and hot chip. No appreciation for flint knapping or nomadic lifestyle," said Stonespear while eying my processed food nervously.
Stonespear believes that the modern generation has become dependent on their new technology like agriculture, or clean water.
"People forget past. But Stone Age best age! Think about all things Stone Age gave us! Wheel, spear, hunter gatherer lifestyle."
Grog Stonespear is not the first to reminisce about the halcyon early hominid days. Tiktok users may be familiar with Liver King, an influencer who promotes a primal lifestyle by eating raw meat and "training like his early ancestors." When asked to comment on his fellow primal influencer, Stonespear referred to him as a "bandwagon caveman" and a "drip-biting poser."
"He copy whole fucking flow. Bar for bar. He bandwagon. No true fan." commented Stonespear, apparently drawing on the caveman's penchant for gatekeeping.
If you wish to ask Grog Stonespear any further questions, you can find him stalking the campus rabbits or watching a local bonfire with a bright-eyed wonder.