Anna Wintour Announces Next Year's Met Gala Theme: "Fuck It. 90's Taco Bell."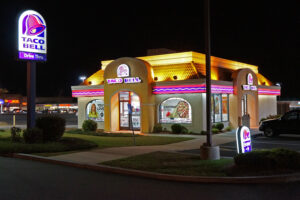 The 2022 Met Gala took place last Monday in New York City, garnering some approval and a lot of disapproval. Many were dismayed by celeb's loose interpretations of the theme, "Gilded Glamor," taking to Twitter and Tik Tok to complain. In response, Dame Anna Wintour, chairwoman of the event, decided to step up the theme for next year's gala.
"We're just going to nelky send 90's Taco Bell," Wintour announced, donning a pair of Taco Bell x DIFF sunglasses for the occasion. "You know, the kind of vibe where you can kick back with the boys, chow down on a couple Crunchwrap Supremes and wait for that totally fly girl to page you."
Celebrities and designers alike were somewhat taken aback by Wintour's announcement. "Fuck it we ball, I guess," designer Jeremy Scott said. "I already made Katy Perry a hamburger dress. Why not a Cheesy Gordita Crunch?"
"This is absolutely tacky and most unbecoming," designer and professional spoilsport Tom Ford said. "I never eat Taco Bell anyway, since I only eat room-temperature food. Also, there's no way to eat a taco and look dignified."
But it seems some are excited by the news. "A Baja Blast-colored dress could be kind of cool," rapper Cardi B said. "And nacho acrylics would go crazy."
In addition to the theme, Wintour announced that the co-chairs of the event would be Jack Harlow, Azealia Banks, Rex the puppet from Victorious and the Taco Bell chihuahua.