Op-Ed: True Dream Fans Would've Seen His Face Reveal During the Capitol Riots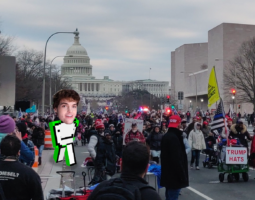 This past Sunday, famed Minecraft YouTuber Dream shocked the world with his much-anticipated face reveal. While many fans were enthralled by this magnificent display of mediocrity, the diehard Dream stans chuckled, knowing that they had already seen the speedrunner's face once before: during the Capitol Riots.
It's true. When Dream isn't busy recording videos or claiming to be a Native American on Twitter, he reportedly likes to spend his time idly scrolling QAnon and working on his segregated Minecraft server. On January 6th, he had a chance to show off his gaming skills as he speedran right through the Capitol gates and clutched the 1v1 against the Capitol police. And he achieved all of this in under nine minutes!
In solidarity with Dream, fervent fan Mike Bichael left his bedroom to show his face to his family for the first time in nearly two years. "Personally, I think it's nice to see a Minecraft YouTuber branch out and commit a crime other than grooming," said Mike. "Like, he's really breaking new ground for the community!"
The FBI is still investigating Dream for charges of treason, but their investigation is reportedly falling short. According to a source from the Bureau, "We keep trying to pursue the bastard, but every time we get close, he just grabs a water bucket and jumps off an eighty-foot cliff!"