A&O Blowout Reveals Featured Artist to be a Framed Picture of Jacob Collier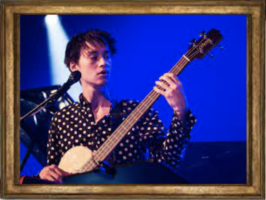 Go get your finger cymbals, folks! A&O Blowout's featured artist this year is none other than a framed picture of Jacob Collier.
Collier, known for his intricate harmonic arrangements and the ability to bore nearly anyone's date, will be traveling all the way from the color printer in Norris to Welsh-Ryan Arena to perform at Blowout this year. He will be debuting his newest album at the concert on October 22nd – in London. In Evanston, however, Collier will be debuting in an 8×10" Ribba black frame from Ikea with eggshell borders.
A&O Productions broke the news on Wednesday in an Instagram post that, due to budget cuts, simply looking at a musician will have to do this year. Many are disappointed by the news, but some seem to have found solace in the fact that the picture to be shown features the 28-year-old artist holding an incredibly small ukulele. "It's a very small ukulele," assured one member of the Blowout board. "Think the size of a small dog – a chihuahua, or maybe an Affenpinscher – and then think of how small that dog would be if it was a puppy. That's how small the ukulele is."
When asked to state his thoughts on having a photo of himself headline at Blowout, Collier replied: "what?"
Rumor has it, the opener will be a lower back tattoo of Phoebe Bridgers and before that, DJ Moondog.