Fun Fall Activities to Try when Your Horny Roommate Sexiles You for the Fifth Time This Week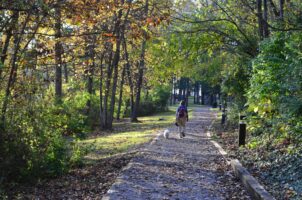 It's that time of year again. Leaves are turning hues of crimson, white girls are donning the baggy-sweater-and-leggings look, there's a chill in the air, and — your horny roommate is texting you "can u stay out tonight?" for the fifth time this week. That's right, you've been sexiled.
Your first instinct may be to get mad, but try to remain calm. Remember, roommates are people too! They have needs! What was your roommate supposed to do when he encountered an absolutely voluptuous goth girl at the Tappa Tappa Keg darty? Some opportunities simply can't be turned down. Try not to be bitter, though. You'll find a dommy mommy of your own someday.
Your next step is to find some entertainment of your own for a couple hours. (Unless the sexile only lasts for, like, 10 minutes. In that case, that's really embarrassing for your roommate.) Fear not, young freshman! Autumn is in the air, and we've got the perfect fall activities to keep you occupied.
While your roommate is going down on this girl, consider going down to Norbucks and ordering yourself a nice pumpkin spice latte! Or, if coffee isn't your thing, try grabbing a friend (while your roommate is grabbing the headboard) and playing a game of Spikeball! Or, if you're in a studious mood, consider finishing up some homework while your roommate is… well, finishing.
We hope these activities help distract you from the fact that while your roommate is pulling mad hos, you're outside shivering because it's 40 degrees and you forgot your jacket. Better luck next time. And congratulations to your roommate, because that goth girl really is a dime.