Soulja Boy puts Flipside-Sherman Ave feud to rest: "Fuck these fools! I was the first rapper to make a biting satirical news publication that not only takes aim at the absurdity of elite academic institutional life but also provides commentary on global events from a uniquely collegiate perspective!"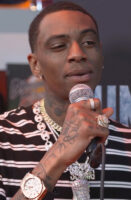 In a recent exclusive interview, Chicago-born rapper Soulja Boy, took unprompted aim at several Northwestern publications for "biting his flow." The allegation follows a trend of similar statements in which the 'Crank-That' Rapper has claimed that several of his contributions are being overlooked by the industry.
Most recently, Soulja Boy has set his outrage upon the world of Northwestern-based satirical news publications, particularly The Flipside and Sherman Ave. "Fliiiiiiiipsiiide?! FLIIIIIPSIIIDE?!" the rapper howled. "You mean the student publication that's still being funded by its president from 2 years ago?"
Boy claims that he had already been working on similar projects years before either publication launched. "I've been putting together pixelated stock photos on rip off photoshop to make my graphics forever, dawg." Notably, the rapper also known as Big Draco stopped short of requesting a 5% cut of club funding, noting the Associated Student Government mandated budgets for each publication.
Soulja Boy was unable to provide any more commentary after having to be taken to University Health Services for "mysterious welts" in his scalp.
"Man, I knew I shouldn't have put my Gucci headband in those Bobb Hall washers," he told reporters.