Northwestern Football Spends $10 Billion On Performance-Enhancing Drugs For Players, Still Can't Seem to Win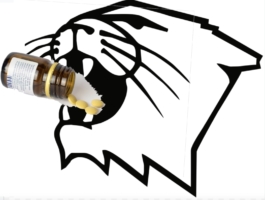 When Michael Schill became president, he was immediately asked about what to do with the NU Football team. His response? "I know a guy."
This guy charged him $10 billion to juice up the team, but instead of being injected with power, the wildcats were plagued with defeat. Such disappointment was solidified by a 42-7 loss against Wisconsin two weeks ago. If anything, the drugs may have made their performance worse.
On the up side, the drugs did seem to help the Northwestern quarterback who saw see a significant increase in completed passes. Unfortunately, 10 of them were thrown to the wrong team.
"It's a lost cause," says coach Pat Fitzgerald. "If these PEDs aren't enough for them, I'm not entirely sure what is. I'm honestly surprised they haven't fired me yet." Fitzgerald was seen shaking throughout the entire post-game interview, raising speculation that he was using the drugs as well. When asked about this, Fitzgerald refused to comment.
Many Wildcats have noticed a recurring trend with Northwestern, with the performance-enhancing drugs being the most recent domino to fall. Die-hard NU football fans—who surprisingly do exist—might recall that $4 billion was spent in 2010 in order to purchase each athlete a moped to prevent them from using their legs. Then, in 2016, Northwestern spent an additional $6 billion on free football merch to give out to students, since nobody was buying it.
It would seem that none of these investments have been beneficial to the team, but Northwestern is already planning their next move. In a few years, we'll have a new $600 million stadium so when we are weighed down by the shame of losing, we'll at least be resting on cushioned seats.