Op-Ed: In A World Full Of "Tits Or Ass," Be A Lymph Nodes Guy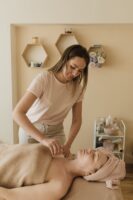 I've been called many things. "Freak." "Weirdo." "Not allowed back inside of Walgreens." Galileo, man that he was, was also persecuted for his belief in the facts.
There comes a time in every person's life when they must answer that fated question: "tits? or ass?" A simple binary. Up or down, left or right, Gale or Peeta, Tits. Or. Ass.
Blasphemy. I refuse.
And don't get me wrong. There have been plenty of dissenters before me. However, their pursuits are not as admirable as mine. I have to wade through banks of porn-addicted thigh guys and feetfinder.com subscribers to find rational, like-minded individuals such as myself. Those that can look deep within themselves and realize that nothing gets the insulin flowing quite like a good pair of lymph nodes.
And boy, has the 21st century been kind to me! Look on Instagram, TikTok, what do you see? It's the century of skincare. Reels upon reels of lymphatic drainage massages, what gua shas to buy, the best jade rollers for your budget. And I've been studying. Studying skin like a mosquito before it sinks itself into a vein.
Cause you see, I've seen you men. You men, who mock your beautiful girlfriends and their Korean skincare collections, their pimple patches and their salicylic acid serums. And one day, when she's had enough of you dipping into her Olaplex budget to buy battle passes, she's going to look to someone who understands her. Someone who cares that Glossier just got added to Sephora. Someone that will, oh, I don't know, rub her neck when she's stressed out.
And I'll be there. Waiting. With moisturized, open arms.