As Climate Crisis Intensifies, Jonas Brothers Re-Release Hit Song As "Year 2100″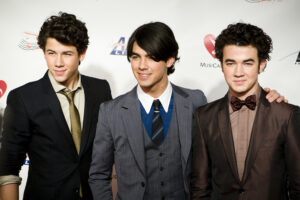 Generations of teeny-boppers have fond memories of shaking their bootcut jeans to "Year 3000," a retro-futuristic time-travel bop by the Jonas Brothers.
But for a new generation of listeners, "reaching the year 3000 is less of a scientific certainty," said Bill Nye in an exclusive statement to the Flipside.
"In the interest of not bumming everyone out, the Jonas Brothers are back to encourage listeners to think a little smaller about their planetary future," said Kevin Jonas, speaking from his fanbase headquarters in a waterproof underground bunker.
Nye is credited as an executive producer on "Year 2100," a re-released track which blends the wacky imaginative lyrics of the original song with the sobering realities of climate change.
"It takes a certain kind of genius to get 'and your great-great-great granddaughter' to rhyme with 'hole in the ozone layer,'" said Nick Jonas. "But the JoBros can do anything when we work together. Well, except fix the actual hole in the ozone layer."
The new track features a sick freestyle verse from Greta Thunberg, remixed over the death wails of a choking sea turtle.
If the "Year 2100" re-release gains enough popularity, the brothers plan to go on a national redemption tour, kicking off at the melting glaciers of Alaska and finishing in the soon-to-be-submerged portion of California.
"The best music sends a message to its listeners," Joe Jonas said, while frantically picking up litter outside his Miami home. "In this case, our message is just becoming a little less 'rock on' and a little more 'we're all completely fucked.'"