RETROSPECTIVE: The Brutal Reign of Despot Tyrant Xanthe Brown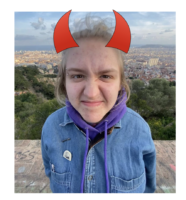 A new dawn breaks on the horizon of the Northwestern Flipside, but the path to renewed leadership has been sullied with blood and corpses at the hands of deposed despot tyrant Xanthe Brown.
Though those working the organization's public-facing roles have silenced prior attempts to leak damning information about the leader, a video of Brown brutally slaughtering a chicken — a move that insiders perceived as "indicative of her reign" and "a sign that democracy dies in darkness" — reached light in an unnamed GroupMe chat, seemingly from the president's personal account. This innocent bird body was just one in a long line of those coldly left behind by the dictator, who worked tirelessly behind the scenes to hush dissent and maintain a strong public image. While few of these senseless murders made headlines due to her vice grip on the media, the chicken-neck-wringing attack harkens back to Brown's noted poisoning of Alexei Dailyny using a Novichok agent, one of the deadly chemical weapons developed by, for, and in Russia. Despite the senseless violence, Brown's blood-drenched reign will reportedly soon come to a close.
"It vill [sic] be the start of something new," an anonymous source close to the president (herein called Kizzy Illian) shared. "My comrades and I seek the liberation of all members of the Flipside and Northwestern at large; and with support from those directly involved with the Supreme Leader, we believe she will be ousted summarily."
A free and fair election, combined with the release of recordings dubbed the "X-posé Tapes", will result in the leader's dismissal, experts speculate. Illian believes that they will be able to "secure the vice-presidency" and raise the current vice-president, who was allegedly ousted from the organization quarters ago, into the seat of highest power. One can only hope that the upstanding members of the Flipside, who have done their due diligence to reveal the truth to the public, will be shunted upwards in the hierarchy, bringing peace, freedom, justice, and security to the new empire.