Op-Ed: I Found Out Dance Marathon Wasn't An Actual Marathon AFTER Doing The Cha-Cha Slide For 26.2 Miles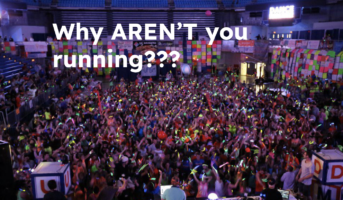 You all know it. "One hop this time." "Take it back now, y'all." "Cha-cha real smooth." Those words join the ranks of lyrics such as "It's fun to stay at the Y-M-C-A" and "Sweet Caroline…BUM-BUM-BUUUM" – they unite people. I have been in many a school gym or hotel ballroom where the Cha-Cha Slide has turned party-goers from strangers to friends…nay, family. And last month, the Cha-Cha Slide took on new meaning.  
Dance Marathon seemed like a cool idea, so I registered and eagerly counted down the weekends. And I trained. I watched videos from experienced marathoners. At first, the hardest part was mastering the right pace of the cha-cha while jogging. Usually, my style of cha-cha was loose and free – I would coordinate my footsteps with my elbows grooving up and down. But I found that rhythm was hard to replicate while jogging – my elbows wanted to only make jogging motions – a subtle, but noticeable difference from cha-cha elbows. To perfect that, I cha-cha-jogged by my dorm, by the lakefill, and I even made a day trip to train by the Bean. I proudly observed my improved cha-cha-jog in the Bean's reflection. It was the perfect combination.
And then came the big day. The thought of 26.2 miles was daunting, but I knew that seeing all the people around me, doing their dances while running a marathon, would make the miles fly by. So, I put on my running gear, put in my airpods (which I had set to play the Cha-Cha Slide on a loop), and set off for Norris.
Yet, no one was there. I waited, staying warm by doing the Cha-Cha Slide around the lakefill, but still no one showed up. What happened? Were they unable to perfect the art of dancing while marathoning? I was feeling discouraged, but then remembered how much joy I felt looking at myself in the Bean, cha-cha sliding and jogging. And so, by myself, I set off. 
It wasn't easy. Sometimes, I felt my elbows revert to jogging elbows. But I re-focused and got back into my rhythm every time. I had some other struggles when I reached Chicago, such as bumping into people when I followed the lyrics of "slide to the left." I felt self-conscious when I had to clap my hands in rapid succession – people definitely stared. Yet, through all those trials and tribulations, I persevered. When I completed those 26.2 miles, I cried tears of joy.
Walking back to my dorm, I still saw no other dance marathoners. And then I saw an email from the executive board congratulating everyone for their hard work. I opened it curiously – where had everyone else done their marathon? Then, confusion set in when I saw pictures of people inside Norris. They weren't running at all! They were just doing various dances for many hours. My eyes widened in horror as I scrolled through, realizing what had happened. 
The organizers had misunderstood the definition of "marathon"! A marathon is strictly a 26.2-mile race. I completed a DANCE MARATHON – doing a dance for 26.2 miles. I was shocked by their mistake. 
Yet, my pride did not go away. All the hard work I put into my Cha-Cha Slide Marathon is not meaningless. I am the only Wildcat who conquered the true meaning of Dance Marathon, and I will never let anybody forget.