School For Illiterate Bans 'Huck Finn' Over Misread Title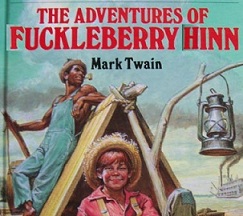 NASHVILLE – Located just outside the Tennessee capitol, the school board of the Lakewood Children's Institute reached a decision this Wednesday to ban all copies of The Adventures of Huckleberry Finn from its premises. The administration found itself in this situation due to a long list of complaints from teachers and parents claiming that students frequently misread the book's title and pronounced "the F-bomb" instead. Considering that Lakewood Children's Institute teaches exclusively illiterate and dyslexic children, evidently this happened quite often.
Linda Madison, a respected teacher at the institute, describes the annual phenomenon of distributing copies of The Adventures of Huckleberry Finn among her fourth grade English students. "As part of our curriculum, we encourage the students to try reading any text they encounter. Kids here are taught to read in a loud and clear voice, to help boost their literacy skills," explains Madison. "So the moment they get their hands on Huck Finn, someone will inevitably commit a spoonerism and end up accidentally saying the F-word. Next thing you know, they're all cursing at the top of their lungs, and half of them don't even realize it."
Madison has been working at the Lakewood Children's Institute for over ten years. "Needless to say, it's quite stressful. I'm just glad to be finally rid of this Huck Finn madness," she says before stuffing copies of Mark Twain's work of classic American literature into a large garbage can.
According to the notes recorded by Lakewood's school board, the administration voted almost unanimously to censor The Adventures of Huckleberry Finn. The notes suggest that a majority of the faculty favored the decision to ban the book over alternative solutions, such as actually teaching the students to read correctly.