Evanston Police Create New Brothel-lizer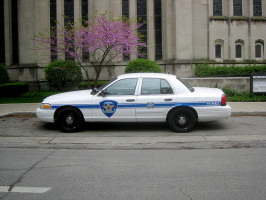 EVANSTON – Keeping with the historically progressive nature of the Evanston government, the police department issued a new technique to limit public unrest: the brothel-lizer.
The brothel-lizer is an oblong white tube inserted anally to check for brothel residue.
"I might not be a proctologist," said deputy chief Victor Rudo, "but working at the police department has given me plenty of experience fucking kids up the ass."
"Metaphorically," he added.
Evanston officials are considering the addition of a volunteer brothel-lizing department. Several high ranking Northwestern faculty members have suggested they are ready and willing to serve.
Not everyone is happy with the brothel-lizer. Northwestern students are up in arms over the risk they pose to the thriving underground brothel scene. On Chicago Avenue alone there are over sixty-three brothels, according to the city of Evanston.
"I am 22," said senior philosophy major Abby Marder. "If I want to spend my weekend at a brothel, I should be allowed to. Mom and Dad aren't here anymore to tell me what to do. This is college."
Marder is not alone. Brothels ranked fourth in a questionnaire sent to incoming students about the reasons they applied to Northwestern. It was beat out only by the slippery-ass walkways, Morty Shapiro, and the fine athletic program. It placed three spots ahead of academics and fifteen in front of Chet Haze.