Due to NFL Lockout, Players Forced to Actually Learn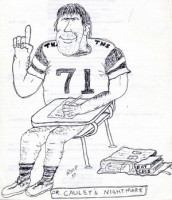 EVANSTON —  Due to the recent NFL lockout, universities across the country are being forced to reconsider their football programs, which often allow players to attend college without ever really being challenged. Some schools have chosen to actually try to educate their players, but the more common response has been to simply send them back to middle school, where they will fit in academically.
According to Bill Finkelton, the director of the University of Alabama football program, they're going to have to change the basis of their program because of this lockout. "Our players aren't going to have anywhere to go, so this whole 'student athlete' thing has to mean student, too. Our motto used to be 'All football, no school;' now it's 'Alabama: we can read!*'"
Players are now being forced to attend classes and maintain a 1.0 GPA, and it appears that other schools across the country are making similar changes. As the director of the University of Tennessee football program said, "They now have to be prepared for at least a minimum wage job when they graduate, since a multimillion dollar salary from the NFL is no longer guaranteed."
Some schools, such as Indiana University, the University of Iowa, and many others in the South are finding it too hard to get their players to maintain that GPA and are having to close down their football programs altogether. "It's real sad," says one IU player, "football was, like, real fun. I's gonna miss my friends."
According to officials, Northwestern is the only school not affected by the new, stricter requirements. NU players may, in fact, be asked to skip class once in a while so that their GPAs will not be so much higher than the averages (or counting ranges) of competitors' programs.
(*All students are required to recite this phrase in order to be admitted into the program to prove they are actually literate.)