Evanston Mayor Tisdahl to Close Keg, Frats, Reinstate Prohibition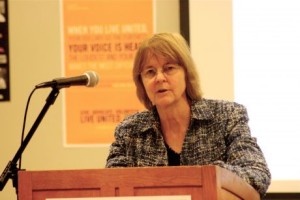 EVANSTON – Evanston Mayor Elizabeth Tisdahl announced Monday that she is permanently closing local iconic bar, The Keg of Evanston, due to repeated charges of underage drinking.
Tisdahl explained, "When an establishment breaks the law, it must be warned, and then punished. When it continues to break the law, it must be shut down."
The announcement did not come as a surprise to Evanston residents, as Mayor Tisdahl has previously supported efforts to enforce Evanston's "brothel law" and denied a liquor license to "The Tilted Kilt," another local restaurant, last spring.
What was surprising was the lack of opposition from the voice of the Northwestern student body, known party fanatic Morton Owen Schapiro. He declined to comment on Mayor Tisdahl's announcement, but his secretary reported that "Morty has been extraordinarily depressed by his failures to keep Tisdahl in check and fears she may yet succeed in returning Evanston to the nineteenth-century dream of Frances Willard, a world of pure sobriety."
President Schapiro was seen in his office, wearing a "Keg of Evanston" T-shirt and nursing a can of Bud Light.
Tisdahl also announced that she was ordering the Northwestern Panhellenic Association and Interfraternity Council to disband. "I understand that underage drinking is not confined to The Keg. That is why I am eliminating the Northwestern Greek system and reinstating Prohibition in our fair city."
McCormick junior Alan Kaponé reacted to Tisdahl's decree, "I don't see the big deal. We're Northwestern students; we can do anything we set our minds to. We'll find a way to get alcohol. Some of us may even make a profit on it."
Tom Migon, owner of the Keg, said he will be converting his bar into a pet store, called The geK-o. "No alcohol will be served there," he promised.
Later Monday afternoon, The geK-o released the following advertisement: "Students who speak easily will be granted access to special discounts and offers in the back of the store."