Concussed Football Player Shows up to Press Conference Six Days Late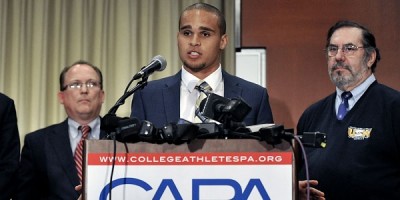 EVANSTON — Nearly a week after Northwestern's football team announced a bid for unionization, starting linebacker Greg Ludlow showed up to Ryan Field's press room to voice his support for the burgeoning movement. Janitorial staff kindly reminded the 21-year-old, who has been repeatedly tackled by 300-pound men running at full speed, that there would be no press conferences taking place that morning, just like they reminded him last Thursday, Saturday, and again on Saturday.
"Such a nice boy," Head custodian Alexander Jones sighed as two workers escorted Ludlow from the room. "Even if his brain is a little mushy. Oh well, it's not like anyone ever forced him to play football. He's there totally voluntarily. Which obviously absolves the NCAA of any legal or moral accountability."
Experts predict that the players' efforts will fail due to many Americans' innate fear of unions. The first draft of the NCAA's response to the players was reportedly the single word "Detroit."
Anticipating this criticism, the team has promised that their collective bargaining does not consider the charged issue of compensation for student-athletes, just health and employee designation.
"We have no intention of becoming lazy, bloated, or shiftless, like our allies in the United Steelworkers Union," read a prepared statement.
NCAA spokesman Cameron Preston recently came down to Evanston in order to negotiate with players:
"Your team is now the Northwestern Petunias and we're taking away your helmets," Preston began.
"You don't like it? There's the door. If your doctor orders you not to play after our own officials determine that there's no correlation between head injuries and brain injuries, there's the fucking door. Hope you finished your degree already, or you walk away with nothing! Any goddamn questions?"
As of press time, The Flipside had received exclusive news that Kain Colter just walked into his kitchen, and that he couldn't quite remember why.