The Flipside's Housing Guide: The Southwest Side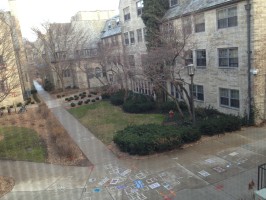 As a service to incoming freshman and current students debating where to live next year, The Flipside has created Northwestern's most definitive housing guide ever. This installment contains information about buildings in the southwest portion of campus, in and near the Sorority Quad.
1856 Orrington — If you're one of the 24 students lucky enough to have a priority number low enough to live in this dorm, please contact me at once. I have much to offer.
Chapin — I don't even think this is a building. Pretty sure this doesn't exist.
Foster-Walker "Plex" Complex — They had a speed dating event here two years ago. It was a wild success because Plex is all singles. Really though. No double rooms. And everyone is single. That's the pun, moron.
(It has recently come to our attention that Plex is not available to freshmen, which appears to be another halfhearted attempt to force socialization and camaraderie among students.)
Hobart House — Seventy-seven-time winner of the award for "Most Poorly Named Women's Residential College." Really, everyone calls this place Ho-House. But it's in the sorority quad, so you're practically a sorority girl, right?
Mid-Quads — Are you from New York City? Great, then we have just the place for you! The Mid-Quads (North and South) have all of the worst qualities of the Big Apple and none of the best. You're never going to see a Yankees game or go to a show on Broadway, but you're almost guaranteed to find your room to be infested with cockroaches and the occasional rodent. But don't worry, that's not a homeless man. It's just a prematurely-jaded sophomore.
Rogers House — Picture your high school classmates. Elder is that dick who beat you up every day for being a nerd. Jones is the thespian who shouted Shakespeare in the cafeteria every day. And Rogers is the hipster who was cooler than everyone else. Everything about RoHo just screams "I was cool before anything else was cool." Which makes sense, because it's so old. It's been a long time since it was cool.
Willard — There are two good parts about Willard. The first is that it provides countless opportunities to delight friends with a Gary Coleman impression by saying "What you talkin' 'bout, Willard?" The second is that Willard is home to Fran's, a gourmet restaurant that rivals the quality of top-notch eateries such as McDonald's, Burger King, and Wendy's. The hours are its redeeming quality: Fran's stays open until a theater major gets slapped, which is around 2:00 AM every night.
Click here for our guide to north campus dorms, and here for our guide to south campus dorms.