Evanston Residents Miss Students, Can't Wait for Class of 2018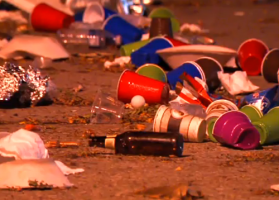 EVANSTON – With Northwestern students away from campus for summer break, Evanston residents find a void in their lives that only the elite school's undergraduates can fill. Frustrated, many Evanston residents encounter absolutely no used solo cups or cracked pink-encased iPhones emblazoned with sorority insignia on their daily walk to the mailbox.
Julie Barrett, 53, feels to be one of the most afflicted, which pushed her to spearhead the "Bring Me Your Stoned and Wasted," an association of Evanstonites who are missing the smell of fresh yard-puke in the morning. "It's just not the same without the undergrads around, nary a used condom thrown over the fence, nothing," Barrett exclaimed, shedding light on what fueled her group's motivation. "Why, I can't even remember the last time I saw such a natural thing as two very intoxicated teenagers making out! We can't go on like this."
Contributing to the successes of Barrett's group are initiatives such as making the 7th Ward of Evanston the "Best Ward for taking laps before you can enter a party." Barret explains, "We are really trying to go all out on making the class of 2018 as welcome as possible and we want to make sure that they carry on the baton of playing shitty music from their phones at two in the morning."
According to the lively mother of two, all hope is not lost. Barrett places her hopes not only in the incoming class of 2018, but also in this year's seniors. "I hope to see some action from the class of 2015, not like those damn pussies last year," she said.
Multiple sources indicate that BMYSW is working on a neighborhood case race to welcome the incoming freshman.