A Preview of Preview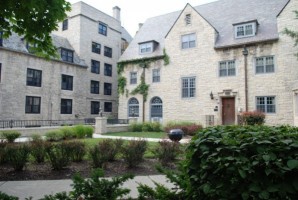 It's that time of year once again. Hundreds of t-shirts exhibiting zero graphic design skill will descend on the quad like a swarm of, well, sorority girls, or at least future ones. To assist in the chaos, Flipside's resident Greek life correspondent is reporting on some completely, 100-percent true facts about Panhellenic recruitment.
It's a "mutual selection process." – Don't let PHA's not-so-subtle move away from this ambiguous term fool you. You will have ample say in the selection of your future sisterhood. It's not like the sororities already know you infinitely better than you know them, because that would be creepy.
Your outfit matters. – Bust out the designer duds. When an active meets twenty girls in one day, she uses her perfect photographic memory to recall what/who you wore and how well-coiffed your hair was.
There will be cookies. – PHA would never intentionally starve you in the name of "no frills" recruitment. If one house has sugar cookies and another has cinnamon sugar cookies, we all know which one is "top tier."
Parties are the equivalent of a consulting interview. – A ten minute conversation with someone who is actually really excited to meet you will be especially excruciating. It's not like freshmen have had half a quarter's worth of practice making small talk with strangers.
Sorority houses are just like fraternity houses. – There's beer pong in the basement, sticky floors and weird collections of stolen stuff. We also have impressive kill shelves in our kitchens. We don't have any more rules than the boys, because that would be sexist.
The affiliated girl you met that one time for two minutes doesn't remember you. – She doesn't recall your name and she definitely hasn't already decided how perfect you would be in your chapter and how she just has to have you in her pledge family.
Sorority girls are scary. – You should be nervous. It's not like sororities have been planning activities for an entire year to welcome you into their sisterhood, shower you with gifts during big/little week, support you in every endeavor (whether it's your running race or case race) and love you unconditionally. That would be silly.