Notre Dame Changes Religious Affiliation to "Agnostic"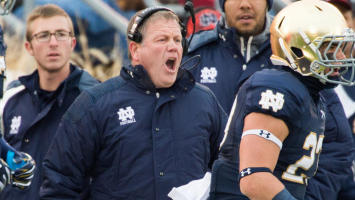 SOUTH BEND, IN — After a hard fought loss to the Northwestern Wildcats, the University of Notre Dame has decided to change its religious affiliation from Catholic to Agnostic. The first of its kind, Notre Dame's newfound institutional agnosticism was predicated on the overwhelming sense of confusion, frustration, and spiritual suffering following the Fighting Irish's Saturday evening loss. "After such a clear display of the lack of justice and righteousness on this earth, Notre Dame felt it was unconscionable to keep up false pretenses of religious faith," commented university President Rev. John I. Jenkins when asked about the motivation for the switch.
The university's policy change is also reflective of the student body's lack of faith as a whole. Students were seen leaving Notre Dame Stadium in tears, looking up to the heavens and shouting "why, God, why?" One student was found frantically reciting catechisms under the student section bleachers. Stadium security apprehended another Notre Dame student attempting to bring down the goal post with a hack saw while shouting "Deliver us from Brindza."
Despite the university's complete loss of faith and total spiritual demise, Notre Dame officials felt Agnosticism was a more appropriate choice than Atheism as a replacement religious affiliation. "I don't know anything about anything anymore. Did you know they lost to Michigan and Iowa? This godforsaken world doesn't make any damn sense" said university Vice President John Affleck-Graves. Head Football Coach Brian Kelly could not be reached for comment concerning the policy change, so if students would like to know his position, they'll have to punt.
In other news, Northwestern University is excited to announce that the football team has a new sponsor, Jesus Christ.