Morty Drops Mixtape at 3 a.m.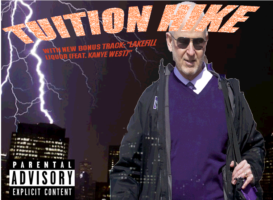 EVANSTON – After an almost 9 year hiatus from the music industry, Northwestern President Morton "Morty" Schapiro has broken his lyrical silence when at approximately 3 a.m. this past Monday, he released his newest mixtape to iTunes as part of an exclusive deal. This is the first full album he has released since he worked with infamous rapper Kanye West to produce College Dropout and Graduation in 2004 and 2007 respectively. The aptly titled Tuition Hike is Schapiro's breakout solo album, self-financed and recorded entirely within a Jones Residential College dorm room.
Tuition Hike has already been met with intense scrutiny by some of the most renowned critics in the music industry with Rolling Stone Magazine calling Morty's sound, "[Like] a Jewish Chance the Rapper. [Tuition Hike] is surprisingly full of intricate beats and memorable hooks that will make you overlook the fact that each song is vastly more expensive than every other song on iTunes."
Still, some of his fans are not happy about the direction Morty seems to be taking his music. "It's just so much edgier than before" complains Cassie Brown, BSM '17, "I miss the solo tracks he would drop every month or so. Ok, so they didn't have much actual content but the production value was solid and they were always catchy. Fireside Chats (I'm Not Listening) will always be my favorite song."
Already rumors are spreading like wildfire of a third possible collaboration between Morty and Kanye coming in the near future. According to some sources, both are interested into breaking into the Thrash Metal market. If sources are to be believed, the album will be named From the Office of Yeezus and is expected to be released sometime before 5 in the morning in 2018. In the meantime Morty is keeping himself busy preparing for Tuition Hike's live debut on Dillo Day.