Fraternity Pledge Not Drowning In Pussy Yet, Surprised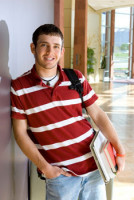 EVANSTON — Reports coming out of the fraternity quad have indicated that area freshman Kyle Sanders, WCAS '19, a pledge in the Tappa Tapppa Keg fraternity, is not drowning in pussy yet. Sanders is allegedly bewildered by this turn of events.
The Flipside had originally reached out to Sanders after he dropped his bid as part of a story discussing Greek life on campus. However, Sanders declined all interviews, saying "Sorry, guys. No time to talk this week. I'm in a frat now so the pussy is gonna be rolling in 24/7." After not getting laid all week and only experiencing the female touch through a single firm handshake, Sanders' original conviction may be fading.
After several weeks, Sanders finally agreed to a sit-down interview to discuss his disappointing dry streak. "Here's the thing," said Sanders. "When I joined a fraternity, I was under the impression that I was set. That everything was going to be easy with the ladies. I'm really shocked that I'm still just as unsuccessful as before." Sanders continued speaking, but our reporter became distracted by the hundreds of unopened condom wrappers covering the floor and failed to write down the rest of Sanders' response.
In other news out of the TTK house, pledge Timothy Ranson, SoC '19, has been released from the hospital after a close call this week after he nearly drowned in pussy. Miraculously, he was reportedly saved after a hot young nurse gave him mouth-to-mouth resuscitation.