Evanston Food Bank to Host Bienen Graduate Nights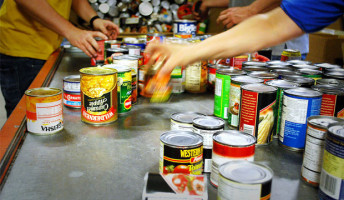 EVANSTON – The Evanston chapter of Feeding America has announced that beginning February 8, the food bank will be hosting Bienen Graduate Night twice every month. The organization anticipates the new event will attract hundreds of need-stricken individuals with prestigious degrees in both instrumental and vocal performance.
Bienen Graduate Night will feature extended hours convenient for former music students now working extended shifts at the local fast food restaurants, as well as networking opportunities with recruiters from all kinds of retail industries. To participate, attendees must only present evidence of several thousand hours of practicing that have now left them unqualified for every job currently hiring.
"This gives us the opportunity to reach out even more to a population that is clearly faced with extreme socioeconomic disadvantages," Feeding America spokesperson Bill McParson commented. "Bienen graduates account for an overwhelming number of homeless and food-insecure households in the Evanston area. We're doing what we can to improve their lives little by little."
Reactions from Bienen graduates have been overwhelmingly positive. "I haven't eaten anything besides saltine crackers since last March," 2011 Bienen graduate Mark Denton admitted. "Last time I was paid to play my oboe was for a musical at ETHS in late 2012. I've been making $10/week cleaning the bathrooms at The Deuce ever since." Former opera major Lisa Johnson voiced her agreement, saying, "I promised myself I would never sell myself out and take a job that wasn't rooted in opera. I've been living on the leftover bread I find in the Cheesie's dumpster since graduation."
Feeding America also disclosed that attendees will earn entries into a year-end drawing, the winner of which will be offered the opportunity to white-out the words "Bienen School of Music" on their diploma and replace it with "School of Communication," a slight but still measurable step up in attractiveness to employers.