Jill Stein: I Can Say Racist Stuff Too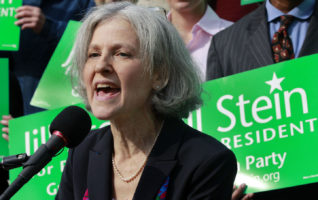 Reporters in Las Vegas for the debate were able to get an exclusive interview with Green Party Nominee, Jill Stein. Taking a break from playing blackjack in the Bellagio, Stein was located watching the debate from a bar at a local T.G.I. Friday's. Although she appeared to be three vodka martinis in, Stein still agreed to take part in an interview with the Associated Press.
"I was heading to the UNLV campus to protest why I've been locked out of the debate and must have gotten on the wrong bus." When asked what she got on instead, Stein refused to answer until served another drink.
"What do Trump and Clinton have that I don't?" Stein exclaimed, "I can say racist stuff too. If the American people want me to drop a couple slurs here and there, I'll gladly do it for the good of the nation." Much to the surprise of the reporters, Stein continued, "I have been working on a couple phrases too. How do you [guys] like 'Trumped High, Dribbled Low Economics' or "Make America Green Again'?"
After a minute-long awkward silence between the reporters, Stein promptly told the reporters she was finished interviewing and turned toward the T.G.I. Friday's bartender.