Northwestern Basketball Finally Relevant Enough to Disappoint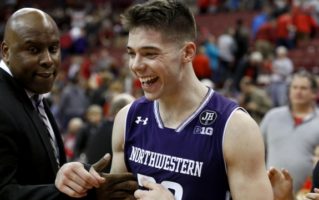 The Northwestern Men's Basketball Team is turning heads recently after a run of strong performances. The team travelled to Columbus yesterday where they won a hard-fought battle against a strong Ohio State squad for their fourth Big Ten win in a row. But the team's impressive display has members of the Northwestern community worried about the team's increasing relevance.
"This isn't what we've come to expect from the team. I'm really not sure how to explain it", said head coach Chris Collins, visibly perplexed by the team's current record of 16-4. "We're supposed to be the team that can hang around with the best of the best, but when it comes down to it, we'll let it slip."
Players on the team seem to share coach Collins' sentiments. Junior guard Bryant McIntosh said, "Against Iowa, we were doing things that top teams do. But we're Northwestern. We're not a top team; we're just average, so what's happening is just plain weird for us."
There's been a lot of speculation that 2017 will finally be the year that the Wildcats receive an invitation to the NCAA Tournament, especially given Ken Pomeroy's favorable rankings over the past couple weeks, and a lot of students have expressed distress at the team's growing prominence. "Man, I can barely keep track of all the players when watching football games, and now you expect me to learn everything about a team I've never cared about?", said Nate Peters, WCAS '19.