NASCAR Celebrates First Openly Liberal Driver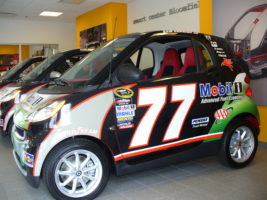 At a press-conference earlier this week, NASCAR officials were happy to announce their admittance of the sport's first openly liberal driver: Bobby Tandel Jr., 25.
The racing league released a statement saying, "Frankly, we thought it was time to open our doors to many kinds of people with many kinds of views. Also, our jobs on the line if we don't stay relevant." When further questioned whether this was simply an attempt to get younger, more liberal sports fans interested, the company shot back, "Does a bear shit in the woods?"
Bobby Tandel Jr., son of acclaimed NASCAR driver and Appalachian Republican Bobby Tandel, got into racing and liberalism to spite his father. Many of his past statements have caused controversy, such as when he told an interviewer,  "I don't think shooting black people is a good thing." When pressed by his fellow racers whether he thinks black people should be allowed to race in NASCAR as well, even Tandel Jr. was put on edge: "Let's just take this one step at a time. We don't need to go CRAZY."
Tandel Jr. drives the first Smart Car to be rigged up with an 850 horsepower engine. "All those emissions…" he said, "It's just terrible for the environment that everybody else can't be as fuel efficient as this beauty." He has attracted a great number of Millennial-approved sponsors, including the German automaker's first racing vehicle. In place of Exxon-Mobil, stickers for RayBan's Lens-less Glasses, Starbucks Coffee, and Flannels Unlimited adorn the outside of the vehicle no bigger than the Pope-Mobile.
While his entry has made many right-wing NASCAR fans uneasy, Tandel Jr. said this was the new norm: "This track is a circle, and it's time for us to come together in a circle of social-equality and respect." Tandel Jr. was last seen at a standstill at the starting line in as he was lapped for the 45th time.
"I'm protesting the executive order okaying the Dakota Access Pipeline. Also I forgot to plug the car in."