Area Woman Forgets Trump Is President, Has 6 Solid Minutes of Peace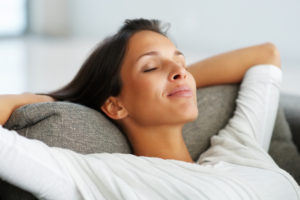 On a bright, cloudless morning earlier this week, sophomore Alice Jenkins, WCAS '19, sipped her morning coffee in the Hinman dining hall for a solid 6 minutes, before she was reminded that Donald Trump is president.
"Most mornings, I wake up, check my phone and see a CNN or BBC notification that Trump has gutted the EPA or said something was racist, but this morning was weirdly peaceful," Jenkins said.
I was planning my weekend of haiku workshops, butterfly watching, and zen meditation, when my phone buzzed and my mom texted me a link to a story about Trump making a 'that's what she said' joke to the Indian PM. The pure shock caused me to drop my coffee, lock myself in my room, and cry for the rest of the day."
Jenkins is still grateful, however, for the roughly six minutes of uninterrupted normalcy she experienced prior to the crashing waves of reality.
"I think this is a new record; the previous was 5 minutes long, until I heard he was in a Russian sex tape. Ever since the election I've frowned like clockwork every minute I remind myself that this nation elected such a reprehensible collection of biological cells to office."