Sodexo Unveils Revolutionary New Dining Experience with 'Plex South'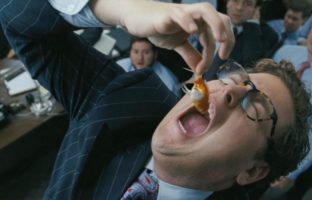 By Jacob Munoz
In the wake of increased student feedback toward campus dining halls, Northwestern officials have reportedly announced plans for the addition of a third dining location to the Foster-Walker Residence Hall. The decision, which came shortly after unexplained HappyOrNot machines were placed around campus, was met by roaring applause from administration in an undisclosed location. According to sources on deep-background, the dining hall, which will be referred to as 'Plex South,' is expected to open before 2019.
"We're convinced that Northwestern students of all backgrounds are desiring for more eating options," said Sodexo Director Samuel Wright. "When the HappyOrNot results came back, and we learned that the scared red button was broken in one of our finest establishments, Elder, we knew we had to make changes."
Preliminary plans for Plex South, which were found cryptically engraved inside Norris bathrooms, include a number of trailblazing visions. Reports say that the location will scrap the popular live-cooking option in favor of an open fish tank, where diners can pick their meal using their bare hands and struggle for food-chain superiority over the gasping animal. Other possible features of the dining hall include the absence of windows, intended to isolate students from the cruel world around them, and exclusive dining hours from 3 p.m. to 5 p.m. on Tuesdays and Thursdays.
A number of dining hall employees expressed discontent over the proposed changes, fearing for their livelihoods from working in, as one unnamed source expressed, "the complete desolation of ambition and livelihood."
"While many will cower in the face of such revolutionary changes," said Wright in response to the opposition, "the future belongs to those who seek to shape it. Long live the Empire. Nos mos vincere gloria regem."
Wright would not discuss the alleged disappearances of concerned kitchen staff, but expressed condolences for those who "wished to stop him," as he sipped a bowl of dark-red substance from an unlabeled Plex West soup container.