Report: Northwestern's Qatar Campus Just Basement of Hinman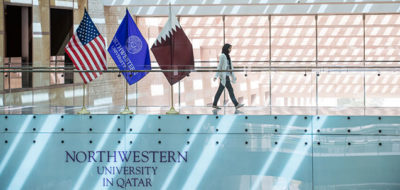 A shocking new report conducted by Medill enthusiast Chad Rubinson reveals that Northwestern's esteemed "Qatar campus" is actually just located in the basement of Hinman. "Last Friday night, I went to the basement of the dorm building by myself to, uh, meditate, when suddenly I discovered cameras, green screens, and fake signs in Arabic. That was the moment I realized that the whole "Qatar" thing is all smoke and mirrors; with Morty as the man behind the curtain," quipped Rubinson. "I don't know why the Playboy magazines were there though. Those weren't mine."
According to sources, Morty immediately broke down upon being pressed for answer. "Okay, okay, the Qatar campus has been fake all along," he admitted to Flipside reporters. "I just wanted to make Northwestern look like it has more global outreach. To be honest, I don't even know if Qatar is a real country."
Information from the report details that all the Qatar students were actually just actors in headdresses and burqas, and the website advertisements and brochure pictures were all photo-shopped by hopeful students looking to build their resumes. "At first I really didn't want to be complicit in this grand hoax, but it's the closest I'll ever get to a real job," said RTVF senior Sally Jenkins.
The incident is not without consequences, however: "We're very disappointed with Morty's behavior, and we are taking the proper disciplinary measures. Currently, he's on a 2-minute time-out, and we've taken away his iPad," said Board of Trustees Member William Stevenson.
The report makes it clear that the Qatar campus is only the tip of the iceberg. New evidence suggests that half of all professors on campus are actually just cardboard cutouts.