College Republicans Can't Wait to Plan Next Year's Offensive Guest Speaker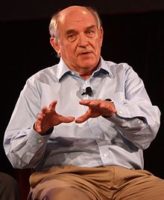 Northwestern College Republicans recently hosted guest speaker Charles Murray, infamous for his offensive argument that a correlation exists between race and IQ level. Sources report that during Murray's speech, the Republicans were already huddled up in the corner, excitedly planning out which intolerant speaker to invite for next year.
Flipside staff interviewed Weinberg freshman Doug Raymond, WCAS '21, one of six people in attendance at the speech. "I only went because the College Republicans lured me into the room with a pretzel. Then they said I could only keep eating the pretzel if I stayed," said Raymond. "I was told something about how I shouldn't be taking their hard-earned pretzels and that I was a leech on their event."
When Raymond, as well as several others, expressed their discontent with the speaker, the College Republicans were ecstatic. "As soon as we saw the angry Twitter posts and op-ed articles in The Daily Northwestern, we knew that our event was a major success," said NUCR member Tom Johnson, SESP '19. But despite the controversy over this year's speaker, the Republican Club is convinced they can do even better at upsetting the public in the future.
"We're excited to announce that next year's guest speaker will be even more of an asshole," said Johnson. "We've spent some time looking through accounts in the comment section of Breitbart and so far we're deciding between Alex Jones or my uncle Jimbo 'F-150' Jimson who made local news after yelling violently about how all Mexicans are terrorists in a Panda Express.