Holy Food War Breaks Out Between Halal and Kosher Food Stations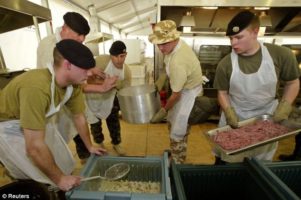 Tensions boiled over Friday night when a veritable Holy Food War broke out between the Halal and Kosher food stations in Sargent. Echoing deep-seated wounds , the Halal table was upset that the NU catering administration had formerly recognized the Kosher table's presence on campus, and required the two religious foodies to share a workstation.  The situation hit its limits when the Kosher table was far exceeding the popularity of its counterpart during "Stir-Fry-day", a well-loved attraction for many. "I saw the two chefs glaring at each other. All it took was one overhanded plate of lamb shank and couscous to begin the bloodbath. I was lucky to get out of there alive" one shaken student reported while covered in a zesty, yogurt based Halal white sauce.
The scene was delicious, nutritious, and deadly for many. "It was a nightmare. Scalding matzah ball soup blinded four and stab wounds from Iraqi kebabs took the lives of two Buddhist passersby. Also, the vegan table is now totally covered in Kosher brisket shrapnel. What am I supposed to eat now?" said gastro-atheist and morally superior vegan, Tim Howard.
A roving gang of Christians were seen trying to get into the action by throwing communion wafers and grape juice but quickly found this only exacerbated both sides, turning on the Catholics. Skirting out of the dining hall they realized that by ignoring the divide between these stations they were able to eat their cheese pizza with mild guilt, sustaining only a couple of black eyes from some well-aimed latkes and bowls of muhallabia.