Investigation Finds 6 Murder Allegations in Unread CTECs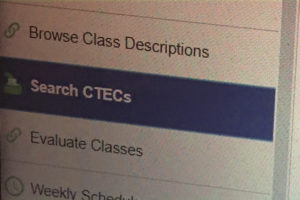 After discovering allegations of sexual harassment and bullying in the CTECs of Medill Professor Alec Klein, the university decided to actually start reading these student reviews. This turned out to be a very wise decision when a total of six murder allegations were discovered among the general responses.
Flipside investigators attempted to track down the students who had made these claims, but only managed to find five out of the six, the sixth having allegedly transferred to Berkeley, although no records of this transfer could be recovered. Of the five, only two were willing to speak with reporters; the others declined comment, one adding that they "really enjoy being alive."
Brian Clark*, WCAS '19, agreed to meet with the Flipside only undercover of nightfall in the depths of Tech. He claims his suspicions were aroused when he stayed after class one day to barter for a better grade. "Before I even got the words out, she just looked at me and said, 'Deal with the grade you got or you'll end up like the last one,'" he said. Clark then reenacted the moment, drawing his finger across his neck sinisterly for dramatic effect.
Leanne Williams*, WCAS '20, communicated with reporters only over a burner phone with encrypted messages. "This guy was a super creepy professor, but I took it in stride because he's old and teaches econ, and that shit will drive you insane, you know?" said Williams. "But then I went to his office hours, man, and I swear there was a human hand sticking out of his trash can!"
The university has since searched the unnamed professor's office, but found nothing of consequence. Williams stated this was likely because the incident occurred last spring. "The body is probably decaying beneath the Lakefill as we speak," she said. The university responded by saying they had searched the Lakefill following these claims but found nothing unusual other than the occasional sad boy brooding on the rocks.
Due to lack of evidence, the names of the accused professors have not yet been released, but the university has urged students to continue using CTECs as their main outlet for reporting these allegations. Sources say they will probably review them by the end of next quarter, or maybe in the fall.
*Name has been changed to protect the witness.