NU Hires Sister Jean Away from Loyola with Promise of Celibate Campus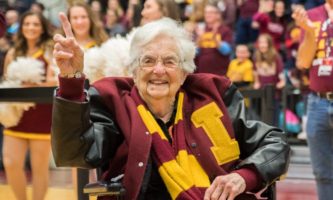 At Welsh-Ryan arena today, Northwestern Athletics announced its hiring of Loyola University's Sister Jean to be the basketball team chaplain with the promise of a thoroughly sexless, celibate campus community.
"After witnessing Loyola's run to the Final Four, we just knew that Sister Jean and her Jesuit lifestyle would be a great fit at a school that regularly sacrifices bodily vices like sex for greater knowledge," Athletic Director Jim Phillips said at the introductory press conference.
After Phillips' remarks, Sister Jean expressed her excitement about her new job, noting that the similarities between Catholic moral teaching and Northwestern campus culture go beyond just celibacy.
"During finals week every quarter, Northwestern's student body comes together in an amazing display of prayer and spirituality," the 98-year-old nun told reporters. "Outside of my convent, NU might just be the most pious place I've ever seen, and that's why I wanted to help guide the Wildcats to victory on the basketball court."
Emerging reports indicate that as part of Sister Jean's contract, "Northwestern Sex Week" will be officially renamed "Northwestern Fornication-is-a-sin Week."