Morty Embezzles Endowment Money to Buy All the Samosas Outside Tech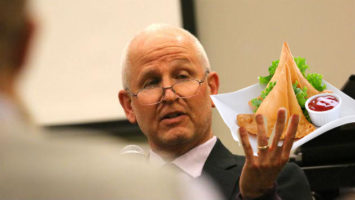 University president Morty Schapiro was accused last week of embezzling endowment money to buy all the samosas being sold outside of Tech, marking Northwestern's biggest corruption scandal since Norrisgate.
Law enforcement officials received multiple anonymous tips last Thursday, after the president was seen leaving the Southeast Asian Club fundraiser carrying dozens of giant aluminum trays. "I was walking down Sheridan Road to get to my, um, football class, when suddenly I got distracted by the delicious aroma of Indian baked goods," said Henry Sputhers, WCAS '21. "I then noticed Morty barreling down the sidewalk on a forklift that must have been holding at least a thousand samosas. He had a very guilty look on his face, and he gave me $6,000 dollars for promising not to tell anyone."
While it hasn't been proven that Schapiro stole the samosa money, many people are strongly suspicious. "I knew something was odd when my patient Henry Sputhers showed up late to his rectal examination with a suitcase full of bribe money," said campus proctologist Ian Kraus. "It seems that half of the money Morty steals is used to buy samosas, and the other half is used for hush money."
Prosecutors are pointing toward Northwestern's recent 3.6% tuition hike as further evidence that the samosas are only the tip of the iceberg. "For years, Schapiro has been funneling money from the budget to buy food from all kinds of international club fundraisers," said District Attorney Jason Spiel. "For example, the recent tuition increase correlates directly with his expenditures not only on samosas from the Indian club, but also pork buns from the Chinese club, bento boxes from the Japanese club, and empanadas from the Latin American club."
At press time, Schapiro was contacted for questioning, but reporters could not understand him because he had food in his mouth.