Northwestern Professors Now Selling PowerPoint Ad Space to Close Budget Gap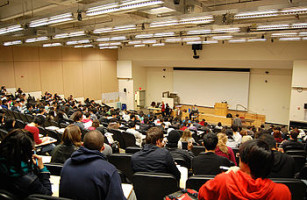 It turns out President Morton Schapiro's meetup with Magic Johnson at the World Series wasn't just a few hours of coy flirting. Taking after the NBA's decision to allow companies to advertise on jerseys, Schapiro encouraged NU professors to sell ad space on future PowerPoint presentations to increase revenue.
Schapiro insisted that selling ad space is not mandatory. However, his rule that those who did not comply would have to spend a night as a Bobb RA has made PowerPoint ads quite popular among professors.
The initiative has given professors the opportunity to showcase their interests to their students. One astronomy professor sold his space to anime company Crunchyroll. His PowerPoint slides now feature anime GIFs, which students have described as "very cool" and "definitely not unpleasant to look at."
MySpace spokesperson Jim Jennings asserted that the company feels ripped off after purchasing ad space from Northwestern biology professor Dr. Alicia Stearns.
"Dr. Stearns promised an audience of two hundred eager millennials, which is exactly what we're looking for to re-energize our platform. She neglected to mention, however, that it was for a 9 a.m. on a Friday. Every class, half of them are asleep and one-third are too hung over to show up!" cried Jennings, "We spent our entire yearly budget of $500 on this opportunity. Now WE have a budget crisis!"
At press time, an electrical engineering professor had come under fire for selling ad space to a company known as "America's #1 Retailer for Holocaust Denial Merch."