Entrepreneurial Genius Logs into Handshake During Middle of Lecture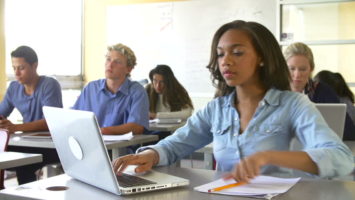 Networking genius Cindy Smuthers, WCAS '21, achieved new heights in student entrepreneurship in the middle of her introductory statistics class last Monday by opening up Handshake, Northwestern's job search website, in a new Safari window.
According to reports from classmates, the future business tycoon scrolled through at least six different marketing internships in Chicago—and only two of them were unpaid.
"My jaw dropped," said Kimberly Pritchett, who was sitting two rows behind at the time. "I can't wait to tell my children about the day I sat close to a Fortune 500 CEO."
News of Smuthers' brilliant tactic quickly went viral, prompting some impressive responses from the internet.
"Watch out world," tweeted Amazon CEO Jeff Bezos, "because here comes a powerful new captain of industry!"
Barack Obama also chimed in during his speech at a private fundraiser.
"Sure, I became president," he said. "But I bet I would've become president sooner if I used Handshake during class, like Cindy Smuthers did in STAT 210."
Some other students from the lecture speculate that the Cindy Smuthers was also scrolling through the info page of some UChicago summer certificate program; and rumors have even spread that Cindy Smuthers was actually crafting new resume bullets when it looked like she was taking notes.
Smuthers initially agreed to comment on the story, but cancelled her interview with reporters upon hearing that The Flipside is not a marketing company.