ETHS Soccer Moms Disappointed To Learn The Facebook Group They Joined Is Actually A Northwestern "Me-me" Page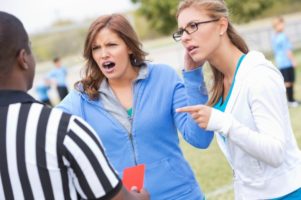 On April 1, Judy Taylor, mother to Evanston Township High School (ETHS) sophomore JV soccer captain Melyssah Taylor, opened up to Flipside with a haunting testimony of her discovery of the "ETHS Soccer Mom Association Facebook Page.
While waiting for her daughter's soccer practice to finish, Taylor was on Facebook messaging her friend Danica about their upcoming mimosa night, when she came upon "ETHS Soccer Mom Association" Facebook page.
"At first, I posted a rant on my profile about how all of the other ETHS moms made a group and never told me about it, but of course I joined anyway," she said.
Taylor enjoyed relating to her friends Jen, Brenda, and Jane about their concerns of their children's involvement with vaccines and weed. But Taylor became concerned when the cover photo was changed at the end of the day to a hodgepodge of funny photos and members of the group revealed their true selves. "The woman I thought was Danica, the bitch who brought GMO orange slices to practice last week, revealed herself to actually be some guy from Northwestern."
According to Taylor, Judy Harlyn brought up the incident at yesterday evening's PTA meeting and found that other mothers experienced the same thing. They spent the next 45 minutes dissecting various pictures of Morton Shapiro with bold, incoherent comic sans captions and despairing over attacks on Canada Goose coats.
PTA President Suzy Dorothy Miller said she had interrogated her son, Trystynne, on these images, and he explained the concept of "me-mes" while excessively rolling his eyes and shaking his head.
Taylor reported that the mothers took a blood oath at the end of the meeting to helicopter their kids' involvement in creating "mem-mes", the death of good comedy. She would like all readers to know that the knife used for the oath was first deeply cleansed with eucalyptus and lavender essential oils.