CRU Gathers Baptists, Methodists, Presbyterians and More for Rivaling "Sect Week"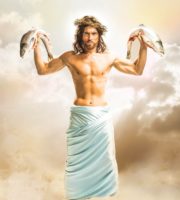 Ready to get your missionary on? Preparing for a lot of time spent on your knees? Want to spread the word of God, and then some?
Then you're ready for next week's "Sect Week" sponsored by Northwestern CRU. In what promises to be a week of biblical proportions, Sect Week aims to gather the Northwestern community to learn about the different denominations of Christianity.
When asked if "Sect Week" had anything to do with the simultaneous "Sex Week," an annual event supporting sex education and positivity, CRU president Dick Cummings said, "No, it has nothing to do with…that week. We just thought that Sect Week would be an amazing opportunity to enlighten students on the differences and similarities between the many branches of Christianity available for their perusing pleasure."
He winks. ""Emphasis on pleasure. We'll be offering a reading of Song of Songs, for those ready to feel the biblical heat."
During "Sect Week", students can expect CRU members to be handing out lollipops in the shape of crosses at the Rock, hosting a speaker series titled "We Each Service God in Our Own Way" and putting on a spoken word show called "Stripping Down My Relationship with Jesus."