Oopsie Alert! That Self-Deprecating Joke During The Ice Breaker Did NOT Stick The Landing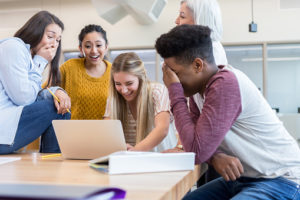 A last second idea to try out a self-deprecating joke as your ice breaker has left your entire English 220 discussion section in a stunned, uncomfortable silence, and has left you questioning whether you made the right move.
Whereas other students opted to show off their individuality by describing themselves as fans of The Office, coffee lovers, and Econ majors just taking this as a distro, you figured the best way of giving off a first impression was to crack a joke regarding one of your deepest insecurities.
"They mentioned something about how ice breakers are hard for them because their personality is like an 'unglazed donut: disappointing and underwhelming,'" says Andrea Thurgood, a sophomore in the discussion section. "I think it would've been weird if we laughed, y'know? It's like we'd be enabling them, and I don't enable."
A student from the class who did not want to be identified tells the Flipside that you laughing at your own comment until your forehead became sweaty did not help.
Fortunately, your TA gave you a second chance to introduce yourself and show off what makes you unique, and so you shared how John Mulaney is your favorite comedian. But don't get your hopes up because it seems you have a quarter of minimal eye contact and awkward glances to look forward to.