In First Sign Of Progress, Local Kindergartners And Tree Squirrels Agree To Temporary Thanksgiving Ceasefire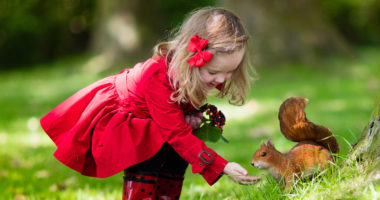 The vicious, no-holds-barred turf war that has rendered Nature Glen Elementary School an uninhabitable disaster zone for the last three months may soon come to a close in the name of Thanksgiving.
"Our forces will be taking this time to regroup, bury the wounded and launch a plan of attack that will bring these terrible small humans to their knees," said Snuggles, dread warlord and heavenly son of the mighty Nature Glen tree squirrel clan.
Accounts vary on how the event that will go down in the annals of history as 'The Real Great War' actually began. However, interviews with dozens of terrified sources reveal that the conflict most likely started when Jeremy Jones – the third-stickiest member of his kindergarden class – accidentally wiped his boogers inside the tree where Snuggles usually stores his acorns.
The battle has since progressed into artillery fire of acorns and crayons, invasions of squirrels into classrooms during show-and-tell, and unholy chattering noises from both sides. It even verged into biochemical warfare last week when Jones ordered his snacktime-buddy-turned-lieutenant Trent Tanus to begin chasing and biting squirrel infantrymen; the squirrels suspect Tanus is attempting to transmit rabies.
However, after Jones and Snuggles managed a brief tete-a-tete on the swingset after school last Monday, both sides have agreed to let the Nature Glen community stuff their faces in peace and rebuild their psyches for just one miraculous day. The conference was dubbed "The Geneva Convention," as Geneva is the name of Jones' longtime snackbuddy.
"Sure, it's really fun throwing mud at the squirrels," said Jones, "but Mommy says that if I can just keep my clothes clean at least until Grandma leaves Thanksgiving dinner, I can have an extra slice of pumpkin pie. And I really like pumpkin pie."
When Thanksgiving break concludes, Snuggle's forces will be testing out a snowball and icicle campaign, while Jones' friends will tear down the squirrels' tree fortresses to provide arms for their snowmen.