Outback Steakhouse Faces Backlash for New "Forest Fire Fajitas"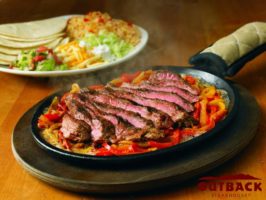 The chain Outback Steakhouse has sullied its reputation after it introduced a new "Forest Fire Fajitas" dish to its menu this week. In light of the fires raging across Australia, the public has denounced the restaurant for its insensitivity, pointing to a series of rash dish names.
Last year, after Hurricane Maria devastated parts of Puerto Rico and Texas, the chain added a new "Power Outage Prawns" special to its dinner menu, and earlier it received criticism for its limited-time-only "Ocean Acidification Sherbet" dessert item. The CEO Outback Steakhouse denies all wrong-doing, claiming each time that the dishes were just "the marketing team having fun with alliteration" and had no relation to current events. 

Protesters are now calling for a boycott of the restaurant and a formal apology. "Wow, we can't even trust corporations to put the public interest above their personal interests? This is truly a shocking blow to my worldview," says leader of the #OutbackGetOut(Back) movement, Charles Graham III. However the campaign lost traction when Graham was filmed tucking into a "Soleimani Side Salad." Also, many thought it was protesting the culinary quality of the fajitas instead of the name.
While the company's board has failed to act, they have been scrambling in recent days after the voice actor for their commercials was put out of commission by the poor air quality in Sydney. But Outback CEO pivoted saying, "people find raspy voices sexy."