Morty Exits Debt Negotiation Meeting With Bloody Bat, Says He Handled It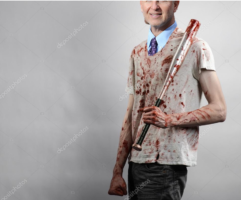 It's no secret to NU students that the school has problems managing money, from administration blowing millions on football games to continuing to fund the theater program. However, recent statements out of the office of the president indicate that these troubles may be over.
When Morty Schapiro went into a budget meeting with several of the financial experts in charge of the university's endowment with one of those bats with nails in it, reporters were unsure of the outcome. However after 20 to 30 minutes of grunting, smashing, and Morty yelling "how does our fiscal year look now?" Morty appeared victorious, declaring he'd "handled it".
"I was supposed to bring in some charts for Morty but after hearing what was going on in the conference room, I went home and made peace with my God" reported an anonymous source close to him.
While some students and faculty have expressed worry about how Morty dealt with the situation and have tried to ask why so much blood was on the bat, they have mysteriously all been unwilling to address him directly. "I'm concerned for our financial future, but also for my own" explained WCAS Junior Angela Chu.
At press time, according to financial experts, Northwestern is "100 Trillion Billion dollars" under budget.