Op-Ed: Thank God Dillo is Online, I Couldn't Find Funky Shorts to Match My Rainbow Tube Top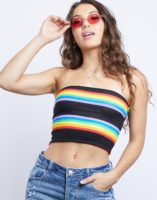 I was super disappointed by the transition of events to Zoom, but not Dillo. Don't get me wrong, I heard Dillo is THE day at Northwestern. (My Big has hyped it up a ton, even though she can't remember if she enjoyed previous Dillos because she blacked out.) Still, I am excited that Dillo moved online because I cannot find funky shorts to match my rainbow tube top.
Ever since I got into Northwestern in December 2018, I have been planning my "Dillo fit." I found the perfect rainbow tube top at Urban this summer. Ever since then, I've been looking for the right pair of funky shorts, to no avail.
My boyfriend is also super relieved by the change. Last year he accidentally ripped his pants at a pregame when he tried to do a keg stand. I feel much better that he will be wearing his sweats behind the fake barricade he made from beer cans to simulate the authentic music festival experience.
Sure, it sucks that I can't get wasted at a concert for a performer that I'm only pretending to know, but isn't that what I do every time I go to an a capella concert?