"Runnin' with the Devil" Tribute to Van Halen at Mike Pence Speech Probably a Bad Idea in Hindsight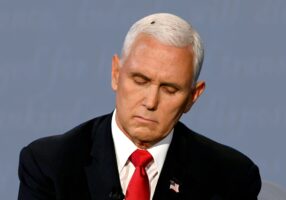 Following the death of rock guitar legend Eddie Van Halen, many celebrities and public figures have used their platforms to honor his memory and celebrate his influence on music. One such figure was Vice President Mike Pence, who played the classic Van Halen song "Runnin' with the Devil" before his speech in Michigan last night. President Donald Trump's campaign team has since taken to Twitter to announce that, in hindsight, this was probably a bad idea.
Trump's team tweeted the following message after the event last night: "VP Pence simply wanted to honor Van Halen by walking out to one of his most popular songs. This was in no way intended to say anything negative about the president." A likely unnecessary, but greatly appreciated, follow-up tweet read, "It is well-known that Mike Pence is a very religious man. He supports the president's Christian values and would not be Trump's running mate if he had any ties with Satan."
The blunder has caused plenty of joking online, but the republican presidential campaign has stated that it still wishes to play Van Halen music before each event in the near future. As such, President Trump will be walking on stage to the 1979 song "Somebody Get Me a Doctor" at his upcoming campaign rally tomorrow evening in Ohio.