New York Jets Dominate Next 4 Games After Realizing They Were Holding Playbook Upside-Down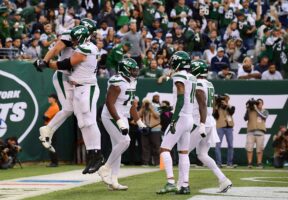 The New York Jets of the National Football League are gaining increasing media attention following their sudden four game winning streak against some of the toughest teams in the league, which came after they figured out the playbook needed to be flipped around.
Following rumors that NY Jet's head coach Adam Gase would be removed in the event of another team loss, the ever-scheming playcaller knew he had to whip up something special before taking on the 2-2 Arizona Cardinals. "Late night consulted the playbook, you know, realized we had to move the ball, score touchdowns. Last week we didn't really do that, so we have to start doing that."
Upon further inspection of his game plan, Gase realized what he needed to do to find unilateral success in the National Football League. "Turns out the whole thing was upside-down. Not too easy when it's all the letter X and O, you know."
Jets starting running back Le'Veon Bell, an alumnus of Michigan State University, felt something was up during the team's practices. "Typically, when we run routes, we run down the field toward the opposing team's goal line. Under [Head Coach Adam] Gase's system, I was running backward every time I got the ball. I felt weird about it, but decided to trust Gase. He's a tactical genius." Indeed, opposing defenses seemingly suppressed both the run and the pass with amazing proficiency, which is not hard considering the offense was moving in the wrong direction.
Bell has been on the inured reserve for three weeks following a hamstring strain, which team doctors concluded was produced by the unnatural movement required to run backward. According to Bell, "running the correct direction these past couple games has really been refreshing. Seeing the whole offense actually score touchdowns for once, it's a good feeling. I could picture us winning four more games."
Amidst all the chaos produced by the specious strategy, one teammate did in fact perform quite well with the upside-down playbook. Former Australian Rugby player Ike Hamels claims he had the best four games of his career before the game plan was corrected. "For the first time in my life mate, the playbook looked like it did back home in Queensland."
The Houston Texans considered turning their playbook right side up too, but decided against it, as they enjoy losing.