Class of 2024 to Receive Zoom Virtual Background in Place of Six Flags Trip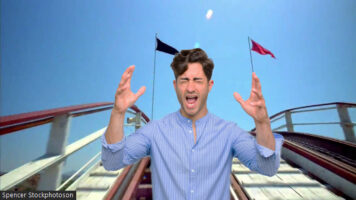 The traditional grand finale of Wildcat Welcome, an all-expenses paid trip to Six Flags, was made impossible this year due to the Coronavirus pandemic, leaving the Class of 2024 without the formative first-year experience that many upperclassmen hold dear. But when all else seemed lost, Northwestern released some uplifting news as to how they would make it up to the Class of 2024.
According to an email sent by President Morton Schapiro, the Northwestern Administration is bringing Six Flags to all first years, no matter where they are, through the use of Zoom background. These Zoom video backgrounds will green screen first-years onto some of Six Flags' most exhilarating rides, such as "Goliath", "Raging Bull" and "Waiting in Line for Concessions".
Additionally, students can purchase a commemorative screen shot of themselves in any of the rides, for a nominal fee of $30, to print out at home — ink and paper costs not included.
The synchronous Six Flags event has been deemed mandatory, slated to take place during Finals week to help students relax. However, an AccessibleNU exception will be available for students suffering from vertigo.
Ahead of the event, Northwestern's IT Department is urging students to turn on their cameras, explaining that the "sophisticated background technology" won't work without it. But a troubling report from Zoom class data shows that only 7% of the most extroverted students will be brave enough to activate their cameras. Students who are unable to activate their cameras will be allowed to spectate as their muted classmates sit emotionless in their room, with a virtual Six Flags background slowly changing behind them.